In our quest to have more play dates, we thought it'd be fun to host a Valentine's Day party. I envisioned making wonderful food, coming up with some great games and having a craft for the girls to do together. As soon as I mentioned the idea of a party to the girls Natalie started in with ideas of her own. I realized right then and there this party wasn't about me, I would not be planning it, and she was ready to take it on by herself. So I did anything a good mother would do… I set her up with a Pinterest search on Valentine's Day ideas, showed her how to pin them, and let her go to town.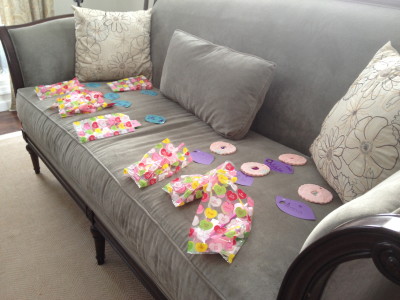 We looked over her ideas together and paired it down to what was doable. Being my daughter, she then made a list!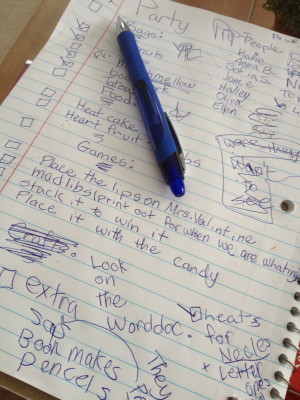 We did end up with some yummy food. The girls made a heart-shaped cake. I iced it Friday afternoon while they were in school.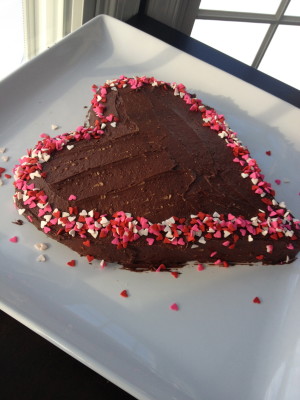 I dipped some marshmallows as well and stuck some lips in them that I got on clearance last year and still had in my bin. (score!)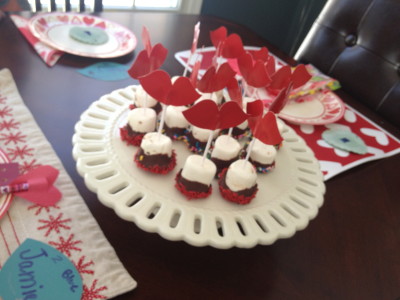 The girls made salt-dough tags with everyone's initial as well as paint swatch place tags.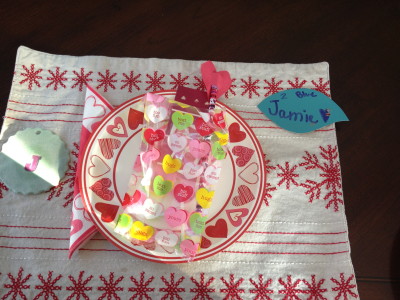 They put together goody bags with some things we mostly had around the house: lollipop soaps I got on clearance a few years ago for a quarter apiece, tattoos I bought on clearance last year, bookmarks made from paint chip samples, and pencils with heart tags… we bought the pencils this  year in the dollar bin at Target. I also had cellophane bags I bought on clearance last year… notice a theme, here?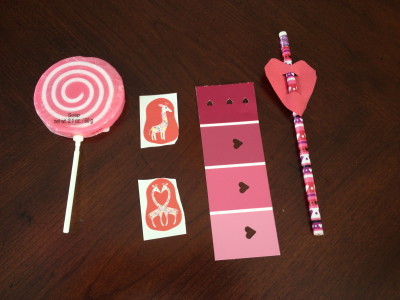 The girls drew, colored, and cut out lips for this game Natalie pinned from Pinterest.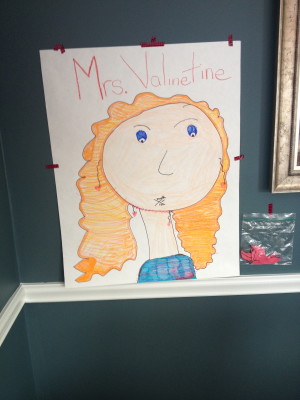 She also found some easy minute-it-to-win-it games and set those up in the living room.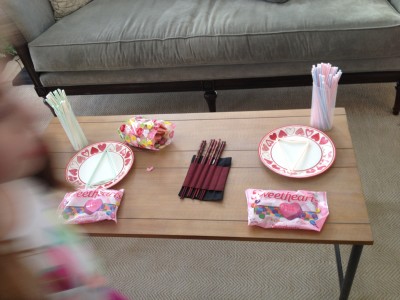 Henry took them out on Thursday night to get balloons. We hung the latex ones from the ceiling and the girls cut ribbon streamers and taped them in the doorway. We put out everything on Thursday night except the food so it'd be all ready to go after school on Friday. (and it meant I didn't have to stress out doing everything by myself).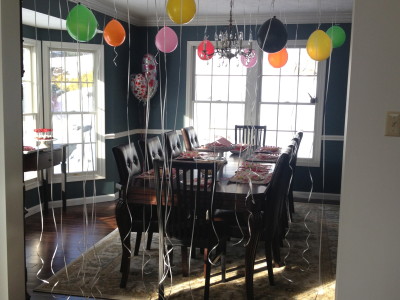 Their friends were pretty impressed.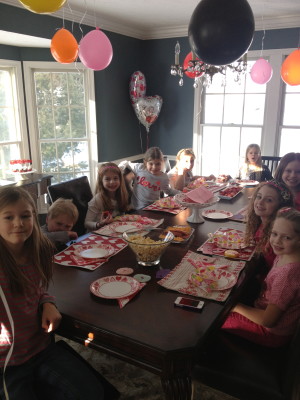 I only had to confiscate 2 cellphones (from fourth graders!). I'm guessing that number will grow as they get older.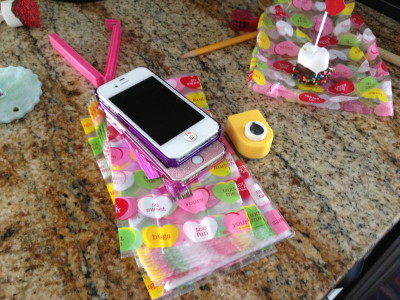 The games and goody bags were a hit, but I think the game of hide-and-seek afterward was the biggest hit of all.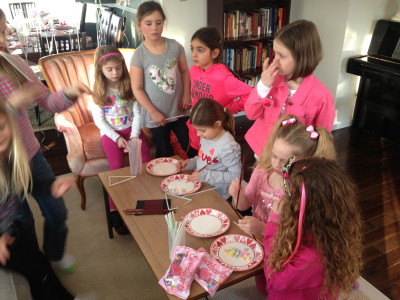 The moms said they were impressed I could pull something like this off with a preschooler and 9 week old in the house…. I had to be honest and tell them Natalie and Ainsley did almost all of it. I wasn't stressed in the least little bit. I sat in the kitchen eating a salad while the girls ran their own party. I wish all parenting could be this easy!