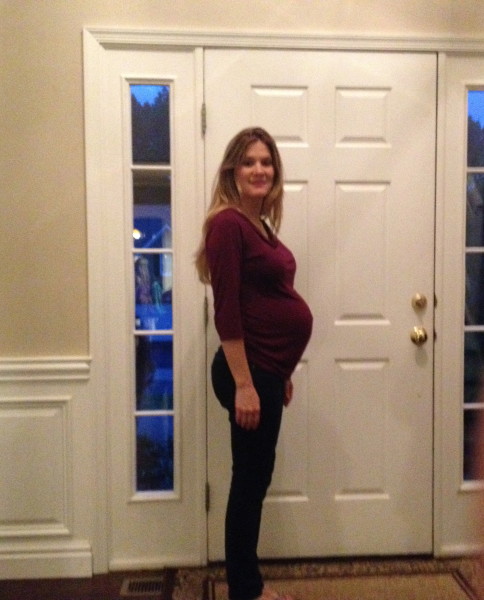 This is the best picture I have of my baby bump. We tried getting a better one and inevitably the lighting is wrong or it is blurry. So here you go. This is technically last week.
Everyone is starting to ask if I'm getting ready and how I feel about adding another member to the family. The answers are simple.
1) I'm not getting ready although I should be and it's on the list. Really. I've decided to put the baby in with Ryan for the time being. He has the smallest room but it's the closest to my room. I have all the decor already for his room and to move him into the other room means getting rid of Ainsley's decor which I just spend several hundred dollars on last year. I just can't justify it all. So yes, my decision was made based on room decorations. Not sure what that says about me, but I'm coming to terms with it.  Which also means baby number four's nursery will be more masculine than feminine and it will confirm in her mind that she really didn't get the treatment all the others got. I am that mom! Agh! Hopefully I can make up for it in other ways – like taking lots of belly shots during my pregnancy. Whoops, missed the boat on that one too! Don't worry, I'll figure something out – like letting her do a bunch of things her older siblings were never allowed to do because I'm tired and out of energy. There, that should do it!
2) I am still in denial that we have a baby coming, at least part way. I'm starting to make a short list of names…. it's very short right now since there aren't any on the list. As soon as I come up with one, Henry nixes it, but at least we're discussing names.  I've got the nursery worked out as I stated above. I'm not worried about necessities. How much do you really need for a baby anyway?
Emotionally I'm still not ecstatic and jumping for joy, but I'm certainly not overwhelmed like in the beginning. I know that life will go on and am curious to see what it will mean to have an infant again, especially with all the activities we have in our lives now with growing girls and a little boy who suddenly has playdates and birthday party invitations like his sisters. I'm hoping having an infant is like riding a bike.
As the baby gets bigger, it's becoming harder for me to put her birth off in my mind. She moves constantly. I'm extremely grateful to know she's been declared healthy; however, she's the first baby I've had other thoughts about like, what if the cord gets wrapped around her neck, or something happens during the birthing process? It's funny how I took so much for granted with my first two. Ryan's cardiologist says in one of the videos about our story how childbirth in and of itself is a miracle – having a healthy baby is a miracle….  with all the things that can and do go wrong on a daily basis. The older I get the more people I meet or are one-degree separated from me who have some sort of traumatic birthing experience. So, I'm trying to give these thoughts over to God, to the sustainer of life and our constant hope.
Physically I am still getting sick. We are into the third trimester and my hormones have kicked up a notch again making me sicker than the second trimester. I get tired more easily but I'm at least functioning. The first trimester was a beast so gagging or having to sit more often isn't that big a deal. Naps are not an every day occurrence, but maybe should be. I drink at least one cup of tea a day to keep me on my toes. It's the first baby I've relied on caffeine for. This old gray mare certainly ain't what she used to be.
The girls are still excited and can't wait to meet their sister. Natalie wants to help out so badly she can hardly stand it. She wants to know if she and her friends can babysit.
Ryan tells me every once and awhile he wants the baby to be a boy. He's also voted for the name Larry and Bob after two of his favorite Veggie Tales characters. Poor boy is going to be sandwiched by major estrogen.
Henry is quietly excited. He was never done like I was and although I offered to have another "for him" he refused (in his words) to put me through it so I know he's especially happy that one of the soldiers made it through.
So that, my friends, is where we are with hobbit #4. 11 weeks to go!