When I found out my Papa died on Sunday, I was standing in line at Subway ordering sandwiches for the kids and me. Henry was home sick so we were doing the Sunday morning thing without him. My sister doesn't typically call on a Sunday at lunch so when I saw her number I thought I'd better pick up to tell her I'd call her right back.  She delivered the somber news, "Papa is gone." I didn't know what to say. Grief washed over me as I thought of this bulwark who has reigned over our family for, well, as long as I can remember, being gone.
As a kid, I thought of Papa as a gruff old man (Old! He was probably in his 60s… so young to me now!) who didn't like noise or us kids running through the house. Imagine that, an adult who didn't want 20 or so grandchildren running through his small 1700's-built house full of antique and porcelain dolls my grandmother collects.
The older I got, I realized he was just a big, cuddly bear; a little rough on the outside but tenderhearted throughout.  As he aged, he became more sentimental, often tearing up when talking about his wife or children.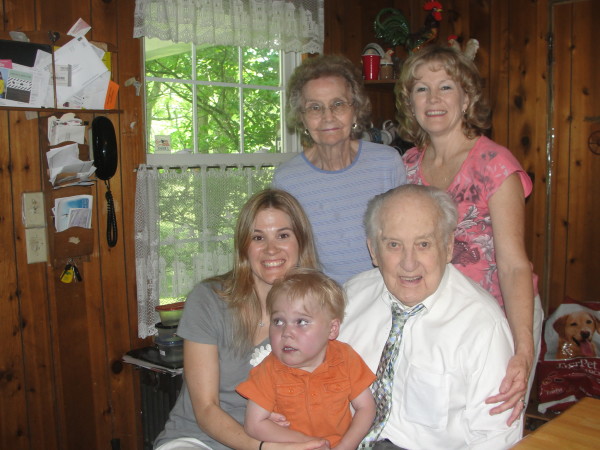 Papa turned 91 a month ago. He lived a long life. To be honest, to be 36 and just now be losing my grandfather is quite a statement (and to still have 2 grandmothers living).  Papa taught me many things in life, but these five stand out to me today:
1) Faithfulness: In many ways, my grandfather was faithful. His nuclear family growing up went through various struggles that left him intent on having a stable home life for his children. He lived with, and cherished his wife, for almost 68 years. They knew hardship, heartbreak, happiness and true joy. He was faithful to his work, his children and his grandchildren. He prayed for Ryan every day since we found out about his little heart. He worked in his lawn equipment company until he was in his 80s. Getting up at 6 am and faithfully making the trek out to the shop every morning to serve his customers.
2) Consistency: My grandfather came to know Christ when he was a young man. He decided at that point he would be in church every time the doors opened. He took his family Sunday morning, Sunday evening and Wednesday night without fail. He was so consistent in his commitment that on the several occasions his home or small business were robbed, it all happened during church hours. EVERYONE knew he would be gone for the evening.
3) Karma – What goes around, comes around – You reap what you sow: However you say it, my grandfather lived it. He wasn't only committed to his family, but to his community. Many years ago he would pick up a little boy named Charles for church on Sundays. The boy wanted to go but needed a ride. As my grandparents aged and eventually stopped driving a few years ago, Charles returned the favor by driving them to church every Sunday.
4) Suck it up or as he would say it: Quit your bellyaching!  I come from a long line of hard workers. Grandpa figured there was no use in complaining or taking a sick day. If you were going to be sick at home, you may as well be sick while getting your work done. I'm not saying this is the healthiest – for you or your coworkers, but it was his mentality. You just didn't stop… for anything. And my husband has often pointed out that I have a hard time relaxing, that I'm always looking for the next thing to get done.
5) The importance of family. My grandmother grew up in New Mexico. Roswell to be exact. She married grandpa before the alien sightings. The one thing her family asked when her soldier-beau whisked her away to upstate New York was that they visit once a year. Grandpa kept that promise until driving on the big highways became too dangerous for a stubborn man in his 80s. He drove grandma and the kids all over the United States weaving their way to NM a different way each time making family memories along the way. It's something Henry and I hope to carry on with our kids (thus the Wisconsin/Michigan tour 2013, and the NY, PA, Canada tour of 2012) He showed his kids this vast country instilling in them an appreciation for extended family, history, and camping!
I have so many personal memories of Papa growing up: of him leading his church congregation in singing, playing the accordion along with hymns, and when that got to bulky, switching to the harmonica. Of watching him eat oatmeal in the morning and drink a warm glass of water before bed each night. I remember the his smelling of oil and gasoline, left over from his work day in the shop…. of him scrubbing the menacing grease from underneath his fingernails. Of his big gnarly knuckles as he rubbed them on my cheek, or his rough stubble.
With the flood of memories comes a wave of grief. I had a hard time settling myself on Sunday. I'd start crying at the drop of a hat. The kids were worried… and compassionate. Ryan said, "How 'bout we watch Thomas together so you will be happy."  Natalie offered to make me a cup of tea. Ainsley cried for me… "not because I'm sad, but because you're crying."
I finally got in the car, by myself, and drove. I wasn't sure where I wanted to go – in Virginia I would've driven out to Purceville and beyond, maybe to the farm, just to be in nature. I don't know my way much around here but I knew there were soccer fields that were pretty isolated not too far. I headed that way and realized I could pass the soccer fields and go up into a park area. As I drove under the canopy of trees I felt the peace creep into the edges of my heart. The woods. It was exactly what I needed. Woods are so tattooed in my memory of time spent at Papa and Grandma's house. The grandchildren were always sent outside and inevitably we ended up in the woods out back. Making pine tree houses, looking for toads, and taking long walks.
I pulled into as isolated a place as I could find, rolled down the windows and turned off the engine. I cried and cried and cried as I breathed in the scent of earth, leaves and bark. I thought of Papa and what he taught us. Of how much he loved his family and his Lord. I thought of how much he loved music, getting his backed scratched, and watching the news. I thought of how his legacy will live on through his 5 living children, 22 grandchildren and over 30 great-grandchildren (I've lost track!).
We love you, Papa. Plant some trees behind that heavenly mansion of yours, because one day, you and I will take a long walk through those woods.