We've all heard of Flat Stanley, yes? Well, Natalie's class is doing a really cool social studies project in conjunction with learning the geography of the United States. It has to do with their little flat selves traveling as many places as they can this year.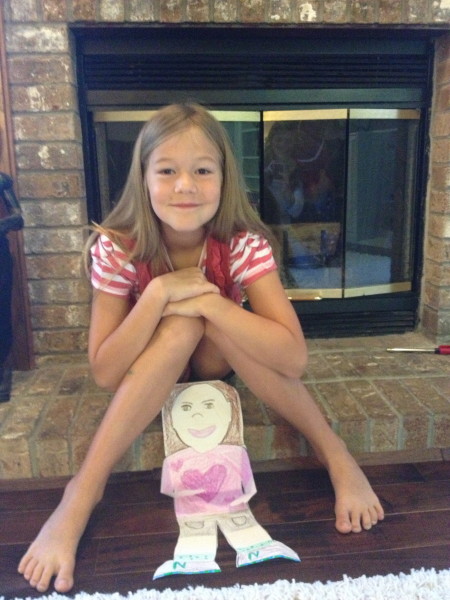 I'm gonna put it out there…. I'd like Flat Natalie to be the winner of traveling to the most states. I'm slightly competitive.  This is where you guys come in…..
Here's how it works. Flat Natalie is in an 8.5×11 manila envelope with a journal. You need to:
1. Write an entry in the journal about your adventure with Flat Natalie and attach a photo.
2. Mark where you are located on the US map located inside the journal.
3. Send a post card to Natalie at her elementary school to let her know where Flat Natalie is visiting.
4. Make sure to pass Flat Natalie on to another person within 10 days.
Anyone out there willing to give this a shot? If so, email me at leighann (underscore) marquiss (at) yahoo (dot) com and let me know your address. I'll give you the address to the school and another address of an interested party. (this means you have to be okay with me giving your address to someone who reads my blog)   Between our siblings we have Pennsylvania, Maryland, Virginia, West Virginia, Florida, Wisconsin, Vermont and Georgia taken care of. I'm looking for anyone traveling or living in the other states!
Flat Natalie played wii at our house… what will she do with your family?