I've loved watching Ainsley come out of her shell this fall. Let me explain. For the past 3 years, the girls have gone door-to-door selling Girl Scout nuts/candy and cookies for their two annual fundraisers. Natalie always brings home the flier and makes it her goal to sell the top incentive amount – $1500. Seriously, she's all about selling for the first few nights and has to practically drag Ainsley out with her (I've insisted they share all their sales up til now). This year, Natalie has been kindof meh about the whole thing. She wanted to sell some, but puh-lease – $1500? No way, Jose. No, this year, it's Ainsley who's gung-ho, dragging Nat out and about trying to get her to sell. My Ains, who typically only wants to sell enough to get the first stuffed animal on the list came home with the goal of the $1500 mark.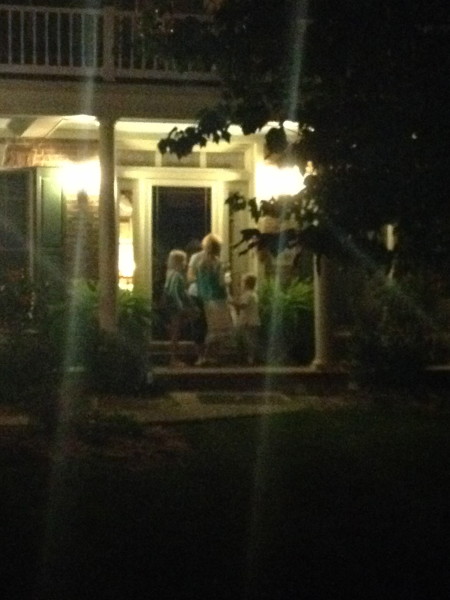 Mind you, we typically sell about $250 per girl no matter what their goal is.
Natalie sold her $250. She's done, literally and figuratively. She's traveling with her dad these next two weeks and the sale is over at the end of this week.
Ainsley has sold $511 worth. What? For starters, when Natalie didn't want to go to some of the houses, I allowed her to sit in the car while Ainsley made those sales on her own. I decided this year they're old enough to figure out what they want to sell and I didn't want one to be hindered by the other… no matter who wanted to do the selling in that moment. Secondly, Ainsley's still home this week, so we went selling again last night. She does NOT want to stop!
We talked last night about her goal…. how $1500 might be stretching it with only 5 nights left to sell. AND we're running out of houses in our neighborhood!  She agreed and revised her goal to $800.  Again – this is a child who has only ever really sold $250. The fun part is she's only $300 away from her goal. I actually think it's doable if I can find another neighborhood without a selling Girl Scout. Oh the things we do for these kids to encourage leadership, goal setting, and business skills!
Anyone out there want to help a precious Girl Scout make her goal? She's selling nuts/candy (which you can have shipped to you), or better yet, she's also selling magazine subscriptions and photo books (similar to Shutterfly or Snapfish) both of which make great Christmas presents. Email me if you want the link and her troop info. Meanwhile, I'll be out driving around the Burgh watching a little girl sell her heart out.