We don't do big birthday parties for our kids every year. And even when we have them, they're at home and are not over the top at all…  so when Natalie asked me if she could throw Ainsley a surprise birthday party I had to mentally take a deep breath and recalibrate.
Natalie's totally competent at planning parties so I knew I wouldn't have to do too much, and I know it's good for her confidence to plan another one successfully. And who can say no to making another kid feel special? Nevermind that we'd be coming off of two weeks of hosting families with five or more children or that I'm having a hard enough time keeping up with just maintaining.
Natalie and a little girl down the street planned for a month and I finally got on board two weeks out when I finally sent out text-message-invitations. About a week before the scheduled date, Ainsley asked if she could have a birthday party. She told me the names of the girls she wanted and specified she wanted a penguin party. Luckily, we'd invited almost all the right girls but we quickly switched from a jungle to penguin theme.  The little girl who was helping invited Ainsley and Ryan (and Natalie, who politely declined) over for a play date for the 2 hrs preceding the party. As soon as they left, Natalie and I switched into high gear. She started making lemonade and decorating.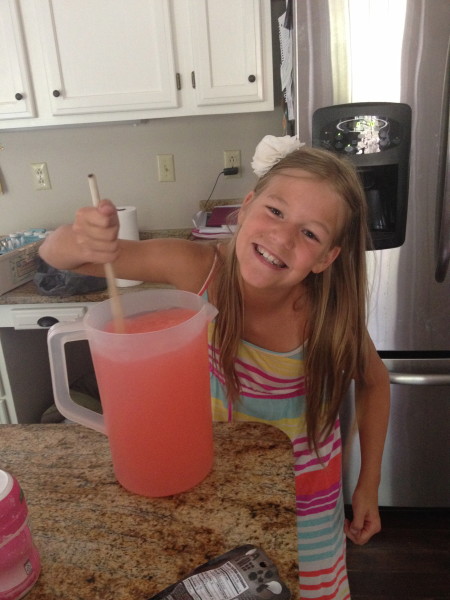 I started icing the cake that I'd baked the night before. I've never iced a cake so fast in my life!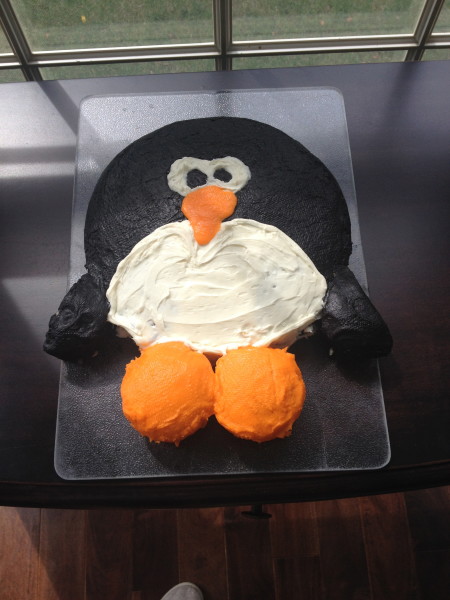 Since Ainsley thought she was having a party on her birthday (which is really tomorrow), the girls made this game together earlier in the week. All Natalie and I had to do was tape it to the wall.
We did simple decorations in shades of blue and white.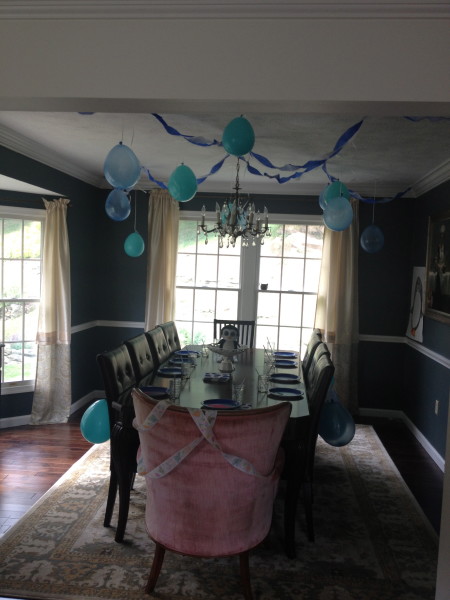 And stuck a penguin in the middle of the table (I couldn't find any penguin decorations at the local stores – - at least not the fun, little kid ones. There were plenty of Pittsburgh Penguin hockey decorations!)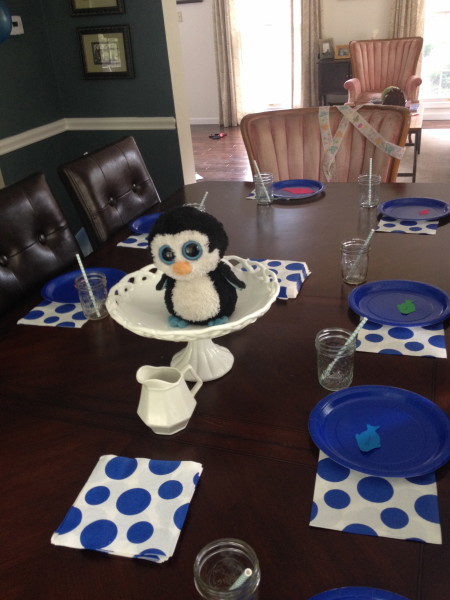 Natalie made place cards with fish cutouts.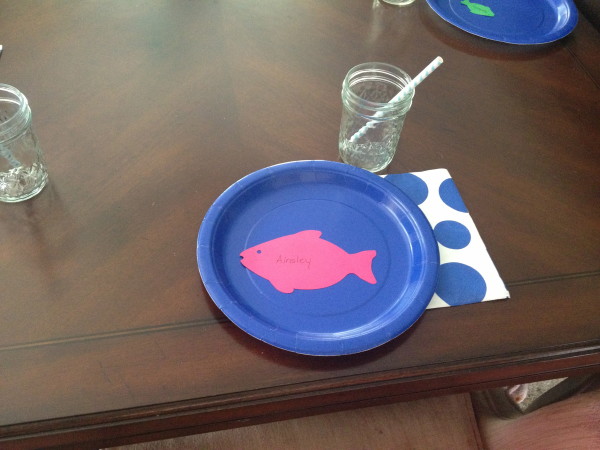 Her friends all arrived and hid in various places near the door. And then the moment came…. I could see her running up the walk from her playdate.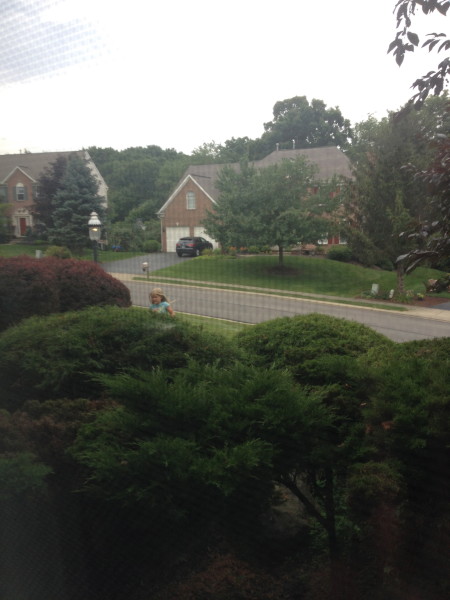 When she came in she saw me standing there with the camera and was very confused.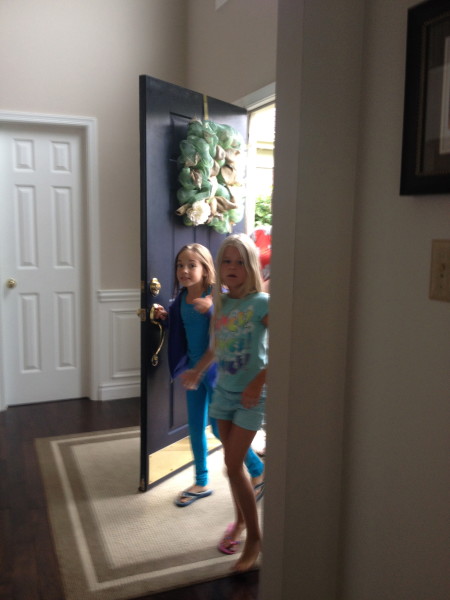 And then her friends jumped out and said surprise!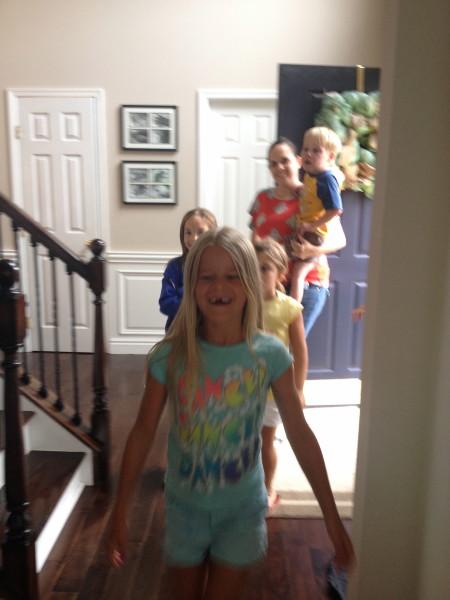 Natalie got them going right away on games while I cooked the pizza.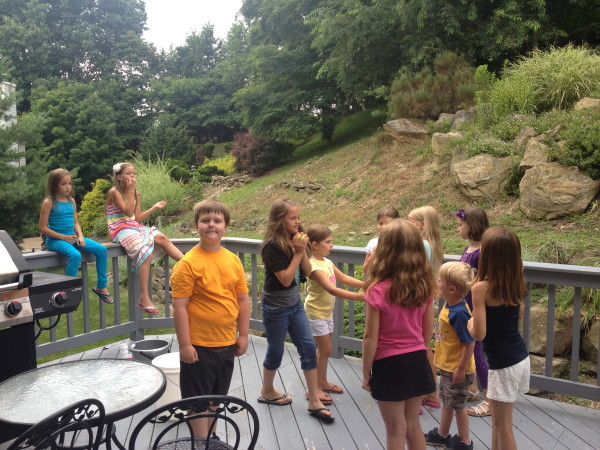 Henry ended up coming home early  - another surprise! He helped with pin the beak on the penguin.
After dinner, the girls were excited to watch Ainsley open presents.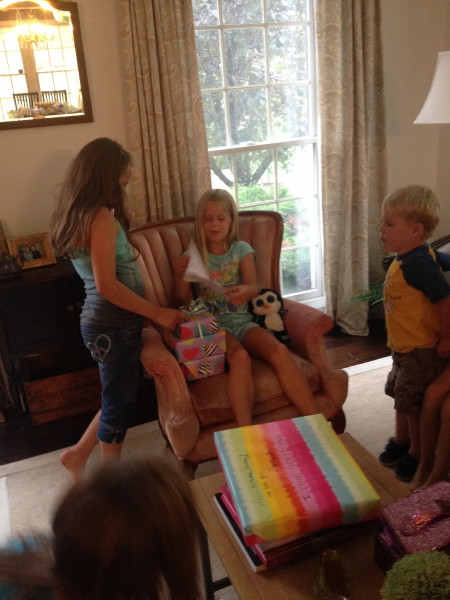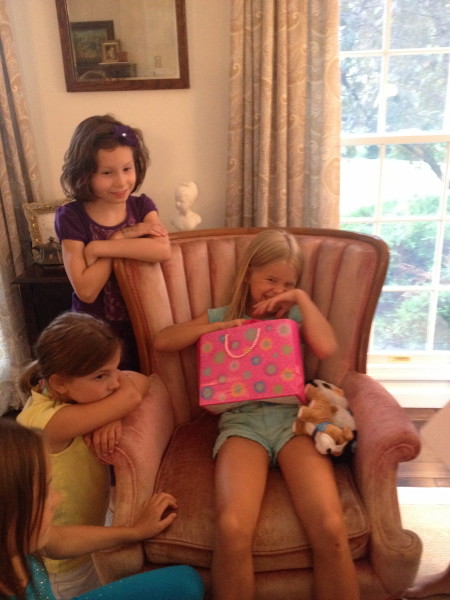 Ainsley had so much fun with her friends and Natalie felt so great making the day special for her sister. We celebrate her actual 8th birthday tomorrow. It's hard to believe my second baby is already 8.